This has been some discussion about card numbers in
2013 Topps
. They have sort of gotten away from their use of
Hero Numbers
which we
discussed here
last year at this time. Topps has gone to using
Uniform Numbers
for card numbers.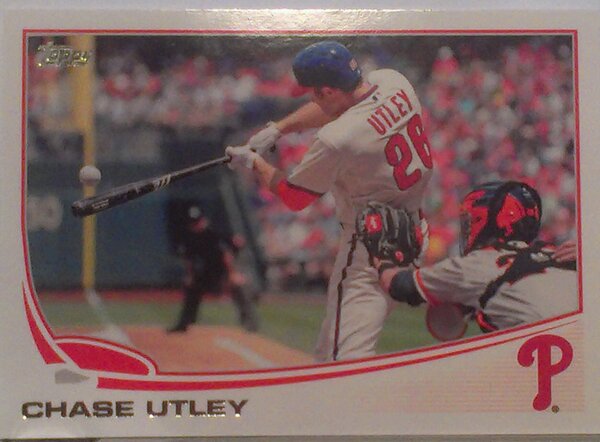 2013 Topps #26 Chase Utley
This covers a lot of cards in Series 1. Pretty much every number up through the middle 60s his a uniform number. This means that the lower level tier hero numbers aren't given to the same caliber players they may have been at one time
50 = Adam Wainwrigth, 40 = Chien Ming-Wang, 60 = Jon Rauch
. The big ones
100 = Mike Moustakas, 200 = Scott Downs, 300 = Daniel Murphy
are perhaps even more egregious violations of the old school Hero Number system.
I honesty down understand the hubbub. They are baseball cards and if Topps wants to change it up this year or for a few years thats fine with me.
Or maybe I just like the fact that Phungo Cards are numbers in the same fashion.
2013 Phungo #26 Chase Utley
So it turns out
Utley, Ryan Howard, Justin Veralander Prince Fielder
and a bunch of other guys have the same card number in
2013 Phungo
and
Topps
. Whats not to like?
The numbers carry through to the 100 200 and 300 series
122 = Andrew McCutchen 128 = Buster Posey 214 = Granderson 217 = Brian Matusz. 308 = Desmond Jennings
.
But there are oddities, the
#7 Mantle
card has been dropped - Topps probably ran out of photos to use.
I do think Topps did miss out on an opportunity.
2012 Phungo Retired Number #42-WASa Jackie Robinson
Jackie Robinson's
number has been retired across baseball - so other than
Mariano Rivera
there aren't really any players to award the number. I think this is an opportunity for Topps why not bestow the card number on Jackie Robinson to honor his legacy.Or perhaps award the number to a prominent African American player who represents Robinson's ideals - In 2013 I gave card #42 to
Juan Pierre
- A respected player both on and off the field. Just a thought. It works for Phungo, why not Topps?
Sources and Links
Chase Utley player collection index
Topps Series 1 Checker
Cardboard Connection